Manage Duplicate Files
The best and safest way to mark duplicate files (with ability to restore them) is to rename them with prefix/postfix. See "Rename duplicates" below.
Select Duplicate Files
Mark copies of files which will be moved, renamed or deleted. You can mark files manually or use following functions from the contextual menu:
---
Manage Duplicate Files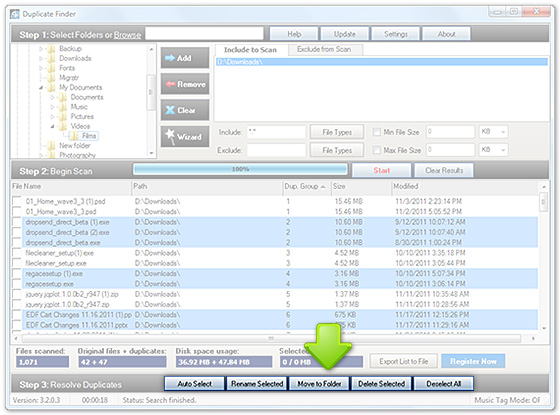 There are 3 kinds of operations with duplicate files available in DuplicateFinder:
Delete duplicates
You can delete duplicates permanently or move them to Recycle Bin.

Rename duplicates
This function allows to rename duplicate files by adding specified prefix or postfix to file names.

Move duplicates to folder

Choose the way to remove duplicates.
The output list includes both original files and duplicates! You need to be careful when you delete or move files.